Testimonials:
Hal has done outstanding assemblies about music and sound for my fourth grade gifted students. He had them enthralled the entire time; they would speak of him all throughout the school year. They learned about the science and culture of music, experimented with sound, expressed themselves creatively and with enthusiasm in the dynamic presence of "Dr. Hal", and many of them opened up for the first time in the school year. They were comfortable with Hal and yet challenged to think for themselves. I am in the process of hiring Hal to come to do presentations for my school so that many more students can benefit from his wisdom and creativity. I am grateful that the teacher I replaced left me Hal's information. I cannot imagine a school year without him!"September 15, 2009
Top qualities: Personable , High Integrity , Creative Jackie Jagielski, Gifte & Talented, Sycamore Trails Elementary, Elgin IL.
I hired and have also attended a number of Dr. Hal Kacanek's music programs for children. I have seen him perform at libraries, scout troops and schools. His different programs provide a wonderful mix of education, entertainment and interaction that will appeal to children and adults alike. Whether it was making musical instruments or learning about the principals of sound I received lots of positive comments from both kids and adults in the audience. He is a great choice for events of this type." September 9, 2009
Top qualities: Great Results , Expert , Creative Michael Ward, Parent & District Sales Manager US Bank, Waukesha WI
Dr. Hal did a presentation on world music and sounds for our home school group in May 2008. The experience was exceptional! He was able to keep the attention of very young children all the way up through their parents for an entire 90 minute presentation, and it was done with great knowledge and enthusiasm! I heartily recommend anyone to hire Dr. Hal for their next music presentation! I still run into people almost a year later who comment on what a great experience it was and how their child was so turned on to music! We plan on having him back again."March 17, 2009
Top qualities: Personable, Expert, Creative Linda Tennies, home school organizer, Hartford WI.
What a fabulous program you put on for us! I thoroughly enjoyed your homemade instruments, your demonstration of sound, your outstanding musicianship, and your great rapport with the students. I am so glad I was able to sit and learn along with the students! The students have been talking about it nonstop! Linda Runingen, music specialist, Randall El., Waukesha WI.

Your presentation was wonderful. You held the children's interest and kept them accountable. Your message about sound is excellent and so important. Polly Mueller, Fine Arts Coordinator, Fond du Lac Public Schools.
First, I want to say that your program(s) at our school were "wonderful." Yours is a program that integrates, science, social studies, art and of course, music. Who could ask for anything more? Our teachers and students could not say enough good things. We still are digesting the rich and exciting material you presented. Your program not only filled the students' minds with facts, but also touched their hearts with the wonder of sound as music. I still have the students reflect on your comments regarding tone. It helped to reinforce the concept that how we speak to each other reflects what our heart truly feels. Terri Fuller, music teacher & asst. principal, Mayville WI elementary and middle school.

Thanks for coming to our school! It was a wonderful program ! Everyone I've talked to who was there loved it! Sandra Swisher-Pheiffer, Music, Adams-Friendship Elementary, Adams, WI

Today's assembly was just outstanding. Our teachers were really impressed. The kids were really intrigued and had a great time. They'll be able to use the knowledge gained for a long time. Your program works very well with our curriculum. Thanks again Hal, your tremendous! Walter Boyer, music, Atwater Elementary, Shorewood, WI

The Fine Arts Committee wishes to thank you again for your wonderful program for the children of Waterloo. Exploring the Global Soundscape was exciting, entertaining along with a wealth of exposure to music from other lands. I hope you can return again. Fine Arts Committee, Karen Kavanagh, Librarian, Waterloo Elementary, Waterloo, WI

Thank you so much for coming and sharing your knowledge of India with us. The students are still talking about it! Rachel Krumenhauer, Homestead High School, Mequon, WI

Exploring the Global Soundscape was absolutely one of our very best in-school programs. The children were entertained and spellbound by the wonderful presentation. Dr. Hal is an excellent teacher and musician. We all learned a great deal during this show and enjoyed having our very own didjeridus as a rememberance. Karen O'Neil, Principal of Oakwood School, Franklin, WI.

" A very powerful learning experience for teachers and students alike...Such an intense time! So much thinking going on! So much creating! Frankly, I never would have believed that my students could accomplish so much quality work in such a short time." Renae Ensign, Music Specialist, New Berlin Public Schools.

Hal's experiences and knowledge of music coupled with his ability to work with people of a wide variety of ages make him a very valuable presenter. Our school enjoyed working with him immensely and hope to have the opportunity to do so again in the future." Debbie Bednarek, Art Specialist, Elmwood School, New Berlin.

You have a natural gift for knowing your audience as each program was tailored for that particular grade. You handled our students like a veteran teacher! They responded to your clear directions, making beautiful music and entertaining their classmates." Elizabeth Motley, Principal, Johnson School, Racine.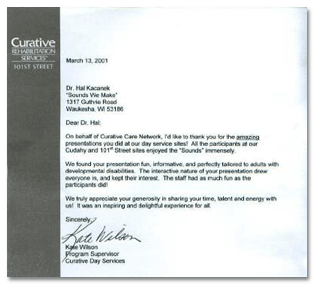 " This was superb as well as entertaining - kids would love it"...Applicable to all students..very interesting..perfect music appreciation.." "Interactive, great visual show n tell. Use for scientific explanations and abstract concepts..be great for a kids session!! Uses all areas of curriculum. could vary for age/grade levels.." Every attendee who filled out the evaluation checked that the content of this session was excellent, the presentation of this session was excellent, the quality of this session was excellent and the usefulness of the information presented was excellent.. Comments from attendees evaluations, Michigan Alliance for Gifted Education Conference, September 2000, Troy MI

Thank you for doing our first summer program. You had a wonderful array of instruments, an exciting amount of musical information, and a lovely exhibition of sounds. We enjoyed your presentation very much. I'm glad to have met someone else who obviously enjoys music as much as I do - someone who can make such beautiful sounds come alive for our children." Cora Ann Haugh, Kensoha Public Library

" You have been here three times and each time your program has been inventive, instructional and most of all fun. Many of the children and parents who have attended your programs have commented to us that they thought your program was wonderful. We especially enjoy the musical intruments from other cultures. Also, your information about other countries and other ways of doing things, is very helpful to all those who attend. The instruments that you make out of ordinary materials is also very useful to the parents and other adults. Several of them have told us that they hope to try some of the ideas you present. This is only a brief idea of what we think of your programs. I could go on and on about how happy we have all been with your presentations.Sandra Cope, Head of Children's Services, Waukesha Public Library.

I just wanted to take a moment to thank you for your contribution to our successful summer - the "Global Soundscape" program was great! Jenny Wegener, Children's/YA Librarian, Oak Creek Public Library

Many students will never experience what Dr. Kacanek has experienced in his many travels throughout the world. His sharing of these experiences is refreshing and intellectually satisfying. I can attest to his spirit, enthusiasm, musicianship, and intellect." Richard Tengowski, Music Teacher, Kohler Public Schools.

The children loved your program. I'm still hearing mine talk about their "didjeridus." The mention of appropriate and inappropriate sounds is also taking effect with some of the students and has been helpful in some discipline situations. The faculty felt that you did a wonderful job of handling the students. Paula Krueger,Teacher (3rd grade), St. John's Lutheran, Watertown, WI

From the onset my class was a captive audience because they became an active part of your presentation. You have a unique way of dealing with young people. You appeal to their youthful humor, and yet show them you assume they will be respectful and courteous. They delight in pleasing you. Fay Scheel, Teacher, Parkview Elementary, Cedarburg.

Every group of children was fascinated and thoroughly entertained by your performance. The teachers and I were especially appreciative of the educational aspect of your work. It certainly was a lot more than the demonstration of a few instruments. Science and Social Studies were so obviously part of the program, and other disciplines as well. Thank you for sharing your talent, your patience, and for a wonderful learning experience. Bill Baas, Principal, St. Joseph School, Big Bend.

On behalf of the Governing Board of the Wisconsin Alliance for Arts Education, I wish to thank you for the outstanding presentation you gave at Summit XI, Creativity and Intelligence: The Ticket for Student Success. It is because of sessions such as yours that the Alliance has earned the reputation of quality. We are very pleased that you took the time and energy to make your session the best! As long as we can show-case wonderful ideas that are taking place in Wisconsin schools and universities, we can assist in making change in education which includes quality arts education for all students. Thank you!!!!! Virgi Driscoll, Executive Director WAAE



Two Island Cultures
Dr. Hal guided tour of Java & Bali, Indonesia


Thanks for making such a special trip with special memories possible. All of us will take a part of Indonesia into our lives forever! Until we return...Mary Ann

Sir Hal - It all started in Madison Wisconsin. The journey took us a great distance from there. The adventure and appreciations have and will continue to help me grow. May all your passages be safe. Shalom...Pat

Thank you so much for such a fine Indonesian adventure. You really know how to treat people. I'll never forget our special times together as a group. New friendships have been great!! John

What a trip! I have been impressed with your love of this beautiful country. Thank you for sharing this with a specialgroup! Cheri

Thank you, Hal, for making this trip expecially wonderful for us all. Because of you I have experienced some of the finest wonders of the world. Best of love to you. Lynn

This was a really special trip for me. Your plans, patience, and arrangements made this possible. Be sure to keep in touch! Shannon

Thanks for a special time. Many good times in a short time. Until next time. Kathy