About Dr. Hal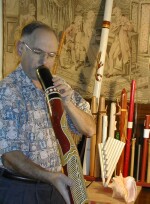 Dr. Hal Kacanek, sometimes known as the didjeri-dude, is a free-lance school artist-in-residence and frequent presenter of integrated music and arts based programs for a variety of venues throughout the Midwest. Dr. Hal is president of Sounds We Make LLC, a company that focuses attention on developing an integrated view of our world based on sound.

Dr. Hal's interest in the sound instruments of aboriginal cultures has led him to become a proficient performer on a myriad of indigenous instruments and to invent, develop and manufacture both quality and outrageous instruments. Many instruments are made primarily out of pvc pipe. Kacanek devotes the bulk of his time to programing as a school assembly performer and artist in residence in the schools. He also performs as a lecturer, keynoter, visiting professor and recitalist for a wide variety of organizations including the Milwaukee Phi Beta Kappa Society, the College Endowment, the Manor Park Foundation, UW-Whitewater and Silver Lake College. For 12 years in an earlier life Dr. Kacanek was chair of a small college music department in Waukesha WI. Previous to that he was director of bands and orchestra teacher at Farmington high school in Farmington, Michigan. His didjeridu playing has been featured by the Milwaukee Public Museum and can be heard mixed with other instruments on an album of his original music entitled Soundscape 2. Dr. Kacanek taught Native American flute for UW-Milwaukee Folk Center, summer school courses on making and playing world instruments at Silver Lake College and currently believes that he will oned day hatch a music education curriculum 'for the rest of us' based on the kinds of creative activities he brings to schools. Since spring of 2006 he has been involved as the leader, arranger, composer of a small klezmer band called ABIAH (A Band In All Hope) which is loosely associated with Waukesha Wisconsin's Jewish Temple Emanu-El.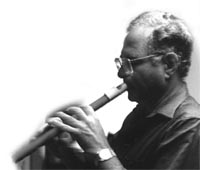 He is engaged in writing a series of arrangements for Jewish temple bands which sound good and are easy to play.

Dr. Kacanek has had two programs sponsored by the Wisconsin Humanities Council; Exploring the Global Soundscape and Two Island Cultures; Java and Bali. He is a recipient of the WI DPI's 2003 International Educator Award "Creating Global Classrooms," and co-author of Music Education: Global Connections to Wisconsin's Academic Standards in Planning Curriculum in International Education (WI DPI 2002). He is a contributing specialist to Charles Fowler's Music! Its Role and Importance in Our Lives. He is an innovator in Native American flute design with a high quality plastic flute along with an instruction manual entitled The Sound of the Native American flute: A Self Instruction Manual with CD supplement.
Schools Attended/Degrees attained
The University of Kansas; PhD. music education
The University of Michigan; MA music literature
Eastmans School of Music; BM trumpet, music education