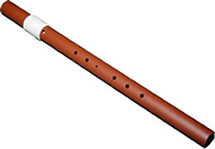 lowest note A (plays C major scale)
The 6-hole Native American Style Flute
with 24 page instruction manual - diatonic fingering
Price $25 + $8 Shipping
(add $1 more for shipping each additional flute)
ITEM #NAF201CDM-DF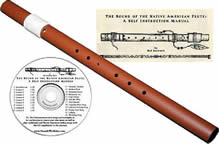 FLUTE W/ INSTRUCTIONAL CD & MANUAL
All you need to get going on this instrument. Includes the instruction manual and the 45 minute instructional CD that talks you through each exercise and demonstrates each example in the manual.
Price $30 + $8 S&H.
(add $1 more for shipping each additional flute)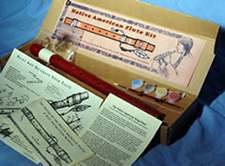 The Native American Style Flute Decorators Kit
6-hole Flute with 24 page instruction manual, CD & Decorating Materials Includes attractive cardboard gift box. Includes beads, feathers, 4 acrylic paints in paint pots, paint brush, sinew, stickers, attractive gift box for you to do personalize your flute. Add your artistic talents to make this instrument yours both in sound and spirit.
Price $39 + $8 S&H
(add $2 more for shipping each additional boxed decorator kit)
ITEM 6
45 minute instructional CD and 24 page instruction manual, includes Dr. Hal discussing playing techniques and performing all 12 songs without reverb.
Price $12 + $3 S&H
SOUNDSCAPE 2
Dr. Hal improvised and mixed all the music on this album. Milwaukee activist poet and musician Harvey Taylor, artfully mixed various parts of the CD to fit his poem Scarlet, Yellow, Brown (after N. Scott Momaday). Take a moment to listen to the diversity of sounds you will hear in Soundscape 2 by clicking on Scarlet, Yellow, Brown. Besides Harvey's haunting poem you will hear the didjeridu, native flute (yes..Dr. Hal uses the same flute you may purchase above), and a Yemenite style shofar (horn of the kudu).
Price $12+ $3 S&H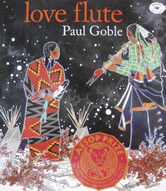 This is the wonderful story of a shy young man who was given the very first love flute, long ago, by the elk chief.
Paul Goble's literary style is true to this beautiful flute creation story. His art is magnificent showing many different native flutes. Includes many ideas on how to decorate your flute.
Price $7 + $5 S&H
Price $25 + $6 S&H
use CUSTOM PAYMENT please.
Price $30 + $6 S&H
use CUSTOM PAYMENT please.
Price $35 + $6 S&H
use CUSTOM PAYMENT please.
ITEM 7
MAKE YOUR OWN
Native American Style Flute Builders Kit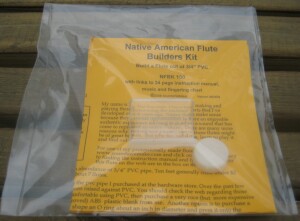 Click on the above picture and see a step by step slide show on building your own flute.
About $1.50 gets you 10' of 3/4" pvc pipe. You only need 17" of it plus this kit to make a spectacular flute all by yourself. The template, the directions, the clip (saddle) and the easy to install internal plug are all here. If you are handy you should be able to complete the project in about 25 minutes. Basic needs are a portable electric drill, 3 bits, a small round file a flat file and about 4 inches of a 1/2" diameter dowel or cpvc pipe. If you don't want to make your flute out of pvc pipe and would prefer the more acceptable abs plastic instead, Dr. Hal's blanks are available for an additional $5. The cedar coloring in the plastic and is certified human safe by the FDA.
Price $5 + $2 S&H
I am so pleased that I finally finished a set of plans for you to make this exciting instrument by yourself. I have wondered over the years how I could make them economically without outsourcing. I can make them for you, one at a time for $500. Of course that is very expensive, however if you want me to make 4 or more I believe that I could make them in the $375 range plus shipping and handling. Of course your cost will be less than 1/2 of that if you make them yourself.
use the custom payment button